JOTA - Jamboree On The Air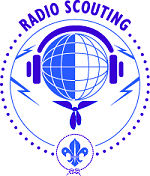 "Jamboree on the Air, known by its acronym JOTA, is an international Scouting and Guiding activity held annually on the third full weekend in October. The event was first held in conjunction with the fiftieth anniversary of Scouting in 1957, and was devised by a radio amateur with the callsign G3BHK. It is now considered the largest event scheduled by the World Organization of the Scout Movement annually.

Amateur radio operators from all over the world participate with over 500,000 Scouts and Guides to teach them about radio and to assist them to contact their fellow Scouts and Guides by means of amateur radio and since 2004, by the VOIP-based Echolink. Scouts and Guides are also encouraged to send paper or electronic confirmations known as "QSL cards" (Or "eQSL's" when they are sent electronically.) This provides the Scouts and Guides with a means of learning about fellow Scouts and Guides from around the world. It is an adjunct to the World Scout Jamboree."
From: Wikipedia
In 2012 I started as a Scout leader at the Van Maasdijkgroep in Heerenveen, the Netherlands, where my son Sander was a scout for some years at that moment. It is the same year I became a licensed HAM. Since the van Maasdijkgroep didn't have a registgered HAM to support the Jamboree On The Air, I decided to combine the two, although I was a realy fresh HAM and only licensed for a few weeks when the JOTA started.
We had some luck though, since we were already planning to work together with another scouting group, the Scouting Johan van den Kornputgroep from Steenwijk, located some 20 kilomters away. They had plenty of experienced HAM's and were willing to cooperate to make the JOTA a succes for the Van Maasdijkgroep. Thanks!
I participated as a HAM in the following JOTA activities:
2012 (Scouting van Maasdijk, PC5E/J)
2014 (Scouting van Maasdijk, PC5E/J)
2016 (Scouting van Maasdijk, PC5E/J)
2017 (Scouting van Swietengroep Diever, PE1PDX/J)
2018 (Scouting Polaris Heerenveen and Scouting de Drones Drachten, PC5E/J)
2019 (2019 World Scout Jamboree, Summit Bechtel Reserve, WV USA, NA1WJ/J), where I did the US exams and got my Amateur Extra license
2019 (Scouting Polaris Heerenveen, PC5E/J)
2022 (Scouting Jambowa, Bolsward, PC5E)
2023 (25th World Scout Jamboree, Saemangeum, South Korea, 6K25WSJ)